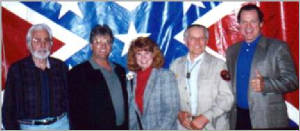 John Hart, Paul Peterson, Bernadette Withers, Jan Merlin and Sonny Shoyer. Atlanta Film Festival 1995 taken at the Lone Star Cafe, Fayetteville, GA
The Atlanta Film Festival was produced by Charles Sharpe of Sharpeco Distributors. These were held from the 1980's up until the mid 1990's.
The first one I attended was in 1989 where I first met Lash LaRue as well as Jock Mahoney. The last one was held in 1995.
John Hart - One of the two Lone Rangers on TV for 59 episodes. John also starred in the 1950's TV series, "Hawkeye" as well as a number of films and serials.